About
About Addtrust
features02
Forming a project team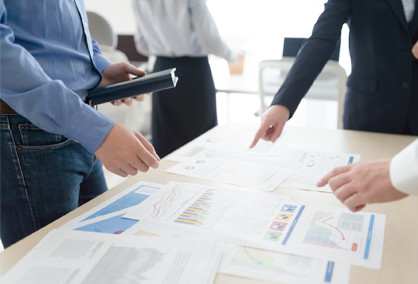 Create a team anew for every single project. Go beyond the "limit of options."
Aim to exceed expected results, maximize all human resources available inside and outside the company
The real estate business involves repeated long-term tasks such as purchasing land, planning how to use it, designing and constructing buildings on it, soliciting tenants to use it and selling or operating the completed project. While a large-scale developer will always have enough resources within its own organization or group to handle all such tasks, this type of centralized approach does not always yield the best results. If a team of ours feels that trying to undertake a project solely in-house may not be in the client's best interest, they will immediately seek other options, for example working with other people with more knowledge or experience in respective fields, regardless of the size of the project, to deliver the best possible result to the client.
We always make sure to maintain good, close communications both within the company and with external partners so that all our project teams can seek advice from all available sources whenever required, allowing them to work professionally and with confidence at all times. Allowing our people to work together with reliable external partners is the key to achieving greater-than-expected results that are better than what they could have achieved alone. This almost always meets and exceeds our clients' expectations.
A flexible and fluid team uniquely built for each project
Should we buy this plot of land or not? And if we do, should we build a commercial facility or housing project? A real estate project offers many different options. No single property is the same as another, and once a project is built, it will remain there for a long time. Whatever building we construct, it must be something that will remain in good use for a long time and be flexible enough to cater to changing needs. And a building must not only be useful in itself but also be a pleasing element of the town in which it stands, in harmony with the surroundings. Developing and operating a property is profoundly challenging work with long-lasting consequences. Even with the finest staff, a fixed team cannot continue producing the best results in such complex tasks. This is why we always create a new team for every single project we undertake. The dynamism of a new team is the true source of innovative and exciting ideas. This is the way we work and what we believe in, based on our experience from past successes and mistakes.